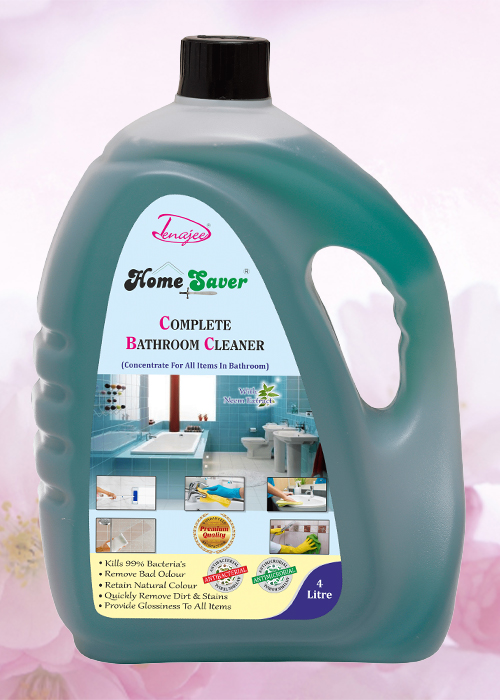 HOME SAVER Complete Bathroom Cleaner (Inst.)
Its A Only Single Product Solution In The Market To Use This Product For All Your Bathroom Items For Cleaning & Care (Except Toilet Bowls). Concentrate Made To Use For All Items In Bathroom Like Plastics, Glasses, Taps, Washbasin, Wall Tiles, Floor Tiles & Marbles, etc. It Is A Specialized Powerful Formula With Special Actives, …
Packaging Sizes : 4 litre
Description
Its A Only Single Product Solution In The Market To Use This Product For All Your Bathroom Items For Cleaning & Care (Except Toilet Bowls).
Concentrate Made To Use For All Items In Bathroom Like Plastics, Glasses, Taps, Washbasin, Wall Tiles, Floor Tiles & Marbles, etc.
It Is A Specialized Powerful Formula With Special Actives, Which Clean, Cares & Safe For All Items In Bathroom & Specially For Your Hands.
It Has Neem Extracts & Other Anti Bacterial, Anti Microbial Actives Which Kills 99% Germs & Bacteria's On All Bathroom Items Surfaces.
It Quickly Removes Dirt, Water Stains & Scales By Its Unique Cleaning Action Easily & Effectively.
It Retains Natural Colour & Provide Glossiness To All Bathroom Items With Its Special Unique Actives.
It Removes Bad Odor & Provide Fresh Long Time Fragrance To Complete Bathroom.
Specifications
Product Type : Cleaning Liquid
Product Form : Viscous Liquid
Color : Sky Blue
Uses : For Cleaning All Bathroom Items Like Taps, Glasses, Tiles, Plastics Etc
Suitable For : All Types Of Bathroom & Its Accessories
Making A Powerful Complete Bathroom Cleaner For All Items in Bathroom
Making A Powerful Complete Bathroom Cleaner For All Items in Bathroom