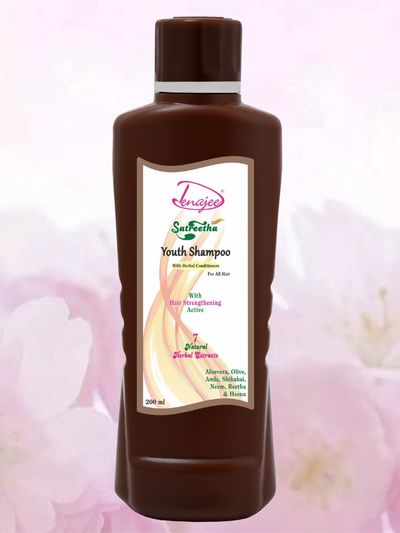 DENAJEE Satreetha Youth Shampoo
It Is The Same Satreetha Shampoo Created For Young Generation With The Goodness Of More Herbal Benefits & Herbal Conditioners. Magical Combination of 7 Natural Herbal Extracts Provides Total Care For Hair Like Strength, Growth & Moisturization Effectively. Contains Natural & Pure Herbal Extracts Of Olives, Aloevera, Amla, Reetha, Shikakai, Heena Makes The Shampoo Useful…
Description
It Is The Same Satreetha Shampoo Created For Young Generation With The Goodness Of More Herbal Benefits & Herbal Conditioners.
Magical Combination of 7 Natural Herbal Extracts Provides Total Care For Hair Like Strength, Growth & Moisturization Effectively.
Contains Natural & Pure Herbal Extracts Of Olives, Aloevera, Amla, Reetha, Shikakai, Heena Makes The Shampoo Useful For All Hair Types.
Contains Expert Hair Strengthening Active Which Works Directly On Hair Roots To Strengthen Hair Root Deeeply, Resist Friction Like Combing Damage & Protect From Hair-fall.
Made To Fulfill Any Deficiencies In Hair, Helps Hair To Improve In Texture, Reduce Dandruff, Grow Faster With Healthy Scalp.
Contains Pure Aloevera, Olive Oil Which Provides Softness & Moisturizes The Scalp Skin To Remove Dandruff And Provide Soft, Smooth & Shiny Hair.
Neem Extracts Provide Antibacterial Affect, Remove Inflammation Thus Provides Healthy & Smooth Scalp.
Specifications
Product Type : Hair Shampoo
Product Form : Viscous Liquid
Color : Dark Brown
Suitable For : All Men & Women
Hair Type : All types of Hair
Age Group : All
Making A Perfect Herbal Shampoo For Young Generation For Regularly Use