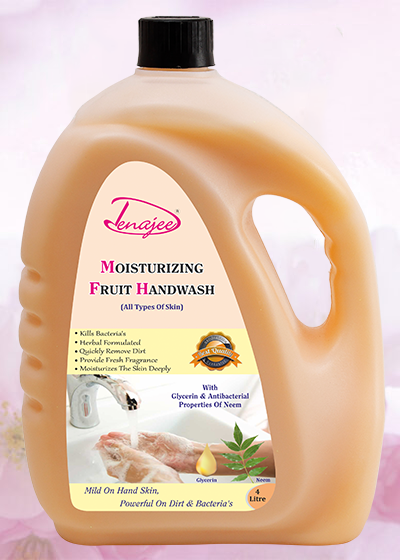 DENAJEE Moisturizing Fruit Handwash (Inst.)
Soap Free Herbal Formulated & Can Be Used For All Types Of Skin. A Mild, Moisturization Designed Formula For Safety Of Your Hand Skin. Requires Minimum Amount Of Water To Clean Hands, Thus Saves Water. Quickly Removes Dirt, Oil, Ink Stains, & Other Stains, Grease Etc Easily By Its Quick Cleaning Action. Contains Glycerin Which …
Packaging Sizes : 4 litre
Description
Soap Free Herbal Formulated & Can Be Used For All Types Of Skin.
 A Mild, Moisturization Designed Formula For Safety Of Your Hand Skin.
 Requires Minimum Amount Of Water To Clean Hands, Thus Saves Water.
 Quickly Removes Dirt, Oil, Ink Stains, & Other Stains, Grease Etc Easily By Its Quick Cleaning Action.
 Contains Glycerin Which Acts As Humectant, Moisturizes The Skin Deeply & Delivers A Rich Smooth Feeling.
 Contains Neem Which Has Antibacterial & Antifungal Properties Which Reduces Skin Infection, Kills Bacteria Etc & Make Hand Skin Germ Free.
 Easily Removes Bad Odor & Provide Long Time Fresh Fragrance To Hand Skin.
Specifications
Product Type-Pearlized Handwash
Product Form – Viscous Liquid
Colour – Orange
Suitable For – Both Man & Woman
Skin Type – All Types Of Skin
Age Group – All
Packaging Sizes – 4 Litre
Making A Mild Moisturizing Fruit Handwash For All Types Of Hand Skin In Daily Use.