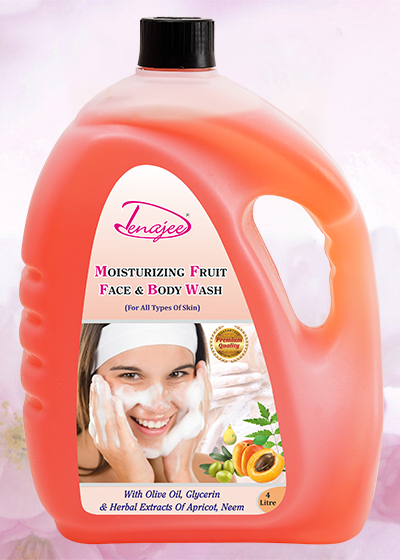 DENAJEE Moisturizing Fruit Face & Bodywash (Inst.)
Perfect Balanced Moisturizing Fruit Face & Body Wash Which Provides Best Moisturizing Properties & Improve Skin Conditioning Of Face & Body Skin. Soap Free Herbal Formulated & Less Foaming Face & Body Wash, Hence Very Soft & Mild On Face & Body Skin Unlike Other Harsh Soaps. A Great Combination Of Herbal Extracts Like Apricot …
Packaging Sizes : 4 litre
Description
Perfect Balanced Moisturizing Fruit Face & Body Wash Which Provides Best Moisturizing Properties & Improve Skin Conditioning Of Face & Body Skin.
 Soap Free Herbal Formulated & Less Foaming Face & Body Wash, Hence Very Soft & Mild On Face & Body Skin Unlike Other Harsh Soaps.
A Great Combination Of Herbal Extracts Like Apricot Extracts, Neem Extracts, Glycerin & Olive Oil Which Makes The Face & Body Wash Useful For All Skin Types.
 Contains Apricot Extracts Has Humectant Abilities, Keep Skin Hydrated, Rich In Vitamins,Omega-3 Fatty Acids Helps Improving Skin Tone & Get Even Skin Tone Of Our Face & Body.
Contains Olive Oil & Glycerin Provides Softness & Deeply Moisturizes Face And Body Skin To Become Soft, Smooth & Shiny After Each Application.
 Neem Extracts Provide Antibacterial & Anti Inflammatory Property, Reduces Inflammation, Acne Or Any Skin Infection Provides Healthy, Smooth Face & Body Skin.
Specifications
Product Type – Transparent Bodywash
Product Form – Viscous Liquid Gel
Colour – Reddish Orange
Suitable For – Both Man & Woman
Skin Type – All Types Of Skin
Age Group – All
Packaging Sizes – 4 Litre
Making A Perfect Moisturizing Fruit Face & Body wash For Daily Use.