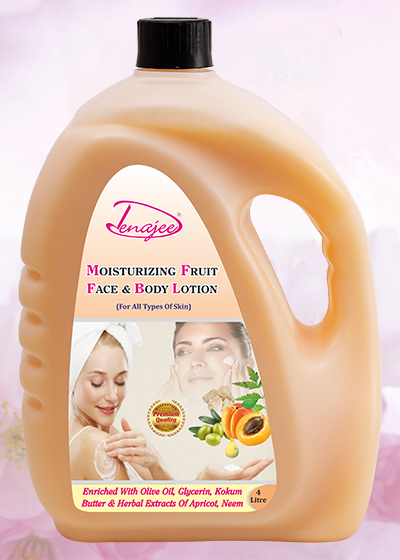 DENAJEE Moisturizing Fruit Face & Body Lotion (Inst.)
Great Combination Of Herbs & Skin Moisturizers Incorporated With Natural Fruit Actives To Maintain Highest Level Of Moisturization & Hydration To Face & Body Skin. Made To Maintain Oil Balance With Natural Moisturization Level For Long Time. Can Be Used For All Skin Types Anytime For Many Applications After Bathing Or Face Wash Like Body …
Packaging Sizes : 4 litre
Description
Great Combination Of Herbs & Skin Moisturizers Incorporated With Natural Fruit Actives To Maintain Highest Level Of Moisturization & Hydration To Face & Body Skin.
Made To Maintain Oil Balance With Natural Moisturization Level For Long Time.
Can Be Used For All Skin Types Anytime For Many Applications After Bathing Or Face Wash Like Body Lotion, Face Lotion, Cleaning Face & Neck, Remove Make Up Etc.
Contains Apricot Extracts Are Rich Source Of Vitamins & Antioxidants, Keep Skin Hydrated, Rich In Omega-3 Fatty Acids Helps Improving Skin Tone & Get Even Skin Tone Of Our Face & Body And Make Your Skin Look Younger.
Contain Kokum Butter & Olive Oil Prevent Dryness Of Skin & Help To Heal Dry And Cracked Skin.
Contains Glycerin Which Acts As Humectant, Moisturizes The Skin Deeply For Long Time & Delivers A Rich Smooth Feeling.
Contains Neem Extract Which Has Antibacterial & Antifungal Properties, Treats All Skin Problems.
Specifications
Product Type- Opaque Lotion
Product Form- Semi Viscous Liquid
Colour- Liquid Orange
Suitable For-  Both Man & Woman
Skin Type- All Types Of Skin
Age Group-  All
Packaging Sizes- 4 Litre
Making A Great Moisturizing Fruit Face & Body Lotion For Daily Use.