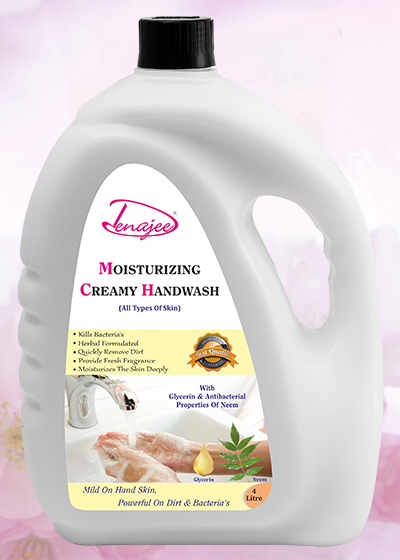 DENAJEE Moisturizing Creamy Handwash (Inst.)
Soap Free Herbal Formulated & Can Be Used For All Types Of Skin. A Creamy Mild Formula For Safety Of Your Hand Skin. Requires Minimum Amount Of Water To Clean Hands, Thus Saves Water. Quickly Removes Dirt, Oil, Different Types Of Stains, Grease Etc Easily By Its Quick Cleaning Action. Contains Glycerin Which Acts As …
Packaging Sizes : 4 litre
Description
 Soap Free Herbal Formulated & Can Be Used For All Types Of Skin.
 A Creamy Mild Formula For Safety Of Your Hand Skin.
Requires Minimum Amount Of Water To Clean Hands, Thus Saves Water.
 Quickly Removes Dirt, Oil, Different Types Of Stains, Grease Etc Easily By Its Quick Cleaning Action.
 Contains Glycerin Which Acts As Humectant, Moisturizes The Skin Deeply & Delivers A Rich Smooth Feeling.
 Contains Neem Which Has Antibacterial & Antifungal Properties Which Reduces Skin Infection, Kills Bacteria Etc & Make Hand Skin Germ Free.
Removes Bad Odor & Provide Long Time Fresh Fragrance To Hand Skin.
Specifications
Product Type-Pearlized Handwash
Product Form – Viscous Liquid
Colour – Milky White
Suitable For – Both Man & Woman
Skin Type – All Types Of Skin
Age Group – All
Packaging Sizes – 4 Litre
Making A Mild Moisturizing Creamy Handwash For All Types Of Hand Skin In Daily Use.