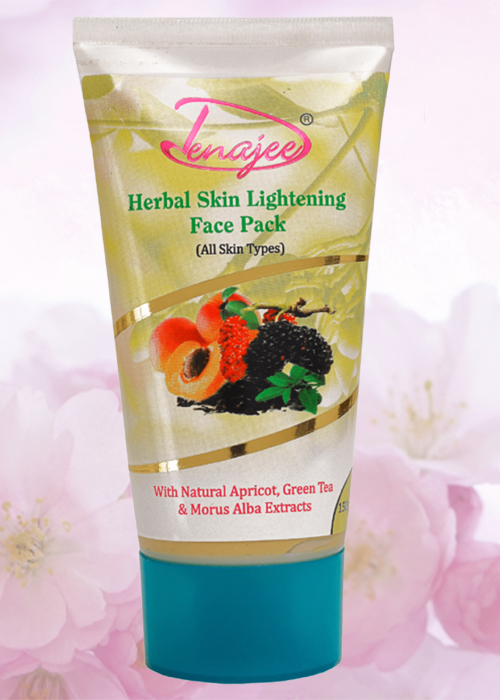 DENAJEE Herbal Skin Lightening Face Pack
Unique Herbal Face Pack Actually Works On Skin Lightening, Anti Ageing & Anti Wrinkle Properties Applied On Face Skin. Natural Pack Made Up Of Natural Minerals & Vitamins, Which Removes Excess Oil, Deeply Clean Skin Pores, Removing Pollutants, Lightens Dark Spots, Suppress Wrinkles Etc Makes The Pack Useful For All Skin Types. It Gives Skin …
Description
Unique Herbal Face Pack Actually Works On Skin Lightening, Anti Ageing & Anti Wrinkle Properties Applied On Face Skin.
Natural Pack Made Up Of Natural Minerals & Vitamins, Which Removes Excess Oil, Deeply Clean Skin Pores, Removing Pollutants, Lightens Dark Spots, Suppress Wrinkles Etc Makes The Pack Useful For All Skin Types.
It Gives Skin Lightening Effect Early Every Time With Maintaining Highest Moisturization Level Of Skin Not To Dry Out Like Other Packs.
Contains Natural Apricot Extract Which Heals Damaged Skin, Improves Skin Tone, Remove Blemishes.
Contains Morus Alba Extract Provide Skin Lightening, Reducing Dark Spots & Inhibit Melanin Formation.
Green Tea Extracts Reduces Inflammation, Flush Out Toxins/Impurities From Skin.
Multani Mitti Gives Cooling & Soothing Properties, Repair Damaged Skin With Fairer & Even Skin Tone.
Olive Oil Maintain Oil Balance & Moisturizes Skin Deeply Gives Rich Soft Feeling.
Specifications
Product Type : Herbal Face Pack
Product Form : Viscous Paste
Color : Light Brown
Suitable For : All Men & Women
Skin Type : All Types Of Skin
Age Group : All
Making A Unique Skin Lightening Face Pack For Regular Use
Making A Unique Skin Lightening Face Pack For Regular Use