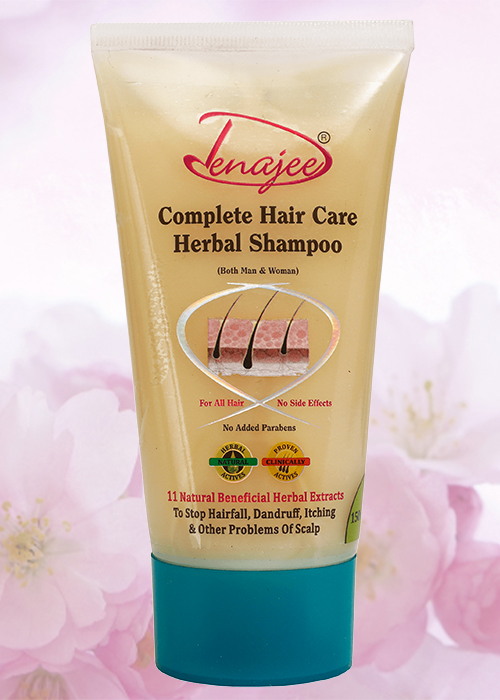 DENAJEE Complete Hair Care Herbal Shampoo
It Is A First Shampoo Of Its Kind Which Proves Master Solution To All Hair Problems With Clinically Proven Results. Great Source Of Natural Vitamins, Minerals, Anti Oxidants Which Are Best Used For Any Hair Problems Like Hairfall, Hairloss, Baldness, Aloepecia, Etc. Incorporated With 11 Most Beneficial Natural Herbal Extracts For Hair Like Ginseng, Roseberry, …
Description
It Is A First Shampoo Of Its Kind Which Proves Master Solution To All Hair Problems With Clinically Proven Results.
Great Source Of Natural Vitamins, Minerals, Anti Oxidants Which Are Best Used For Any Hair Problems Like Hair-fall, Hair-loss, Baldness, Aloepecia, Etc.
Incorporated With 11 Most Beneficial Natural Herbal Extracts For Hair Like Ginseng, Roseberry, Olive, Amla, Heena, Bhringraj, Brahmi, Aloevera, Tulsi, Neem, Jatamansi.
Has No Added Parabens And Have Clinically Proven & Natural Herbal Actives.
Shampoo Made For All Types Of Hair & Scalp Especially For Hair-fall, Hair-loss, Dry, Itchy Scalp Or Have Any Scalp Disorder.
It Is Free From Classical Chemical Actives Use To Treat Hair And Scalp Problem Thus Totally Safe & Free From Any Side Effects Like Itching, Allergy Etc On Scalp.
It Works On The Scalp Right From Very First Use, Making The Scalp To Look Healthy, Strong & Flake Free After Each Application.
Infused With Blend Of Unique Actives Like Anti Breakage, Anti Hair-fall & Hair Growth Actives Which Works Magically On Hair & Its Roots, Resulting Hair-fall Stops Rapidly & Hair Growth Increases Quickly Everytime.
Specifications
Product Type : Hair Shampoo
Product Form : Viscous Liquid
Color : Natural Light Brown
Suitable For : All Men & Women
Hair Type : All Types Of Hair
Age Group : All
Making A Master Shampoo Product For Hairfall, Hairloss & Other Problems Of Scalp For Regular Use
Making A Master Shampoo Product For Hairfall, Hairloss & Other Problems Of Scalp For Regular Use