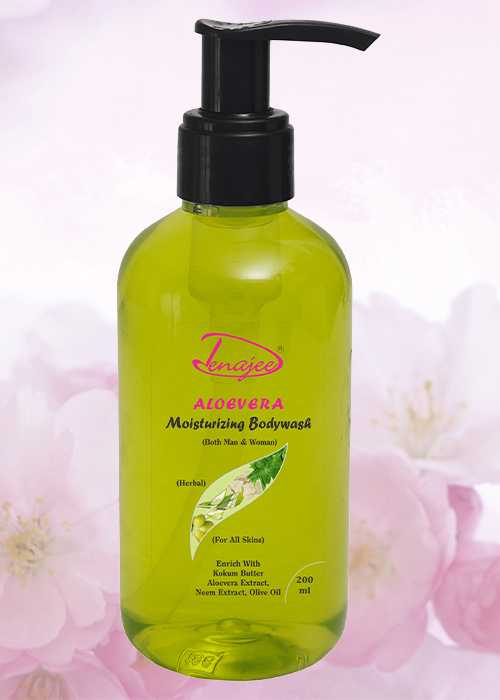 DENAJEE Aloevera Moisturizing Bodywash

Perfect Balanced Moisturizing Bodywash Which Provides Needed Moisturization Of Body skin Along With Anti Bacterial & Anti Inflammatory Affect. Soap Free Herbal Formulated And Less Foaming Bodywash, Thus Very Soft & Mild On Body skin Unlike Other Harsh Soaps. Contains Natural Aloevera, Kokum Butter, Neem Extracts, Glycerin & Olive Oil Which Makes The Bodywash Useful For All …
Description
Perfect Balanced Moisturizing Bodywash Which Provides Needed Moisturization Of Body skin Along With Anti Bacterial & Anti Inflammatory Affect.
Soap Free Herbal Formulated And Less Foaming Bodywash, Thus Very Soft & Mild On Body skin Unlike Other Harsh Soaps.
Contains Natural Aloevera, Kokum Butter, Neem Extracts, Glycerin & Olive Oil Which Makes The Bodywash Useful For All Skin Types.
Makes A Smooth, Protective Moisturizing Layer On The Body skin Which Acts As Barrier To Protect Against Further Damage By Harmful Environment.
Contains Aloevera, Olive Oil & Glycerin Which Provides Softness & Deeply Moisturizes The Body skin To Become Soft, Smooth & Shiny After Each Application.
Kokum Butter Helps To Reduce Wrinkles And Prevents The Skin From Dry Out.
Neem Extracts Provide Antibacterial & Anti Inflammatory Property, Remove Any Inflammation Or Acne Or Any Skin Infection & Provides Healthy & Smooth Body skin.
Specifications
Product Type : Transparent Bodywash
Product Form : Viscous Liquid Gel
Color : Light Green
Suitable For : All Men & Women
Skin Type : All types of Skin
Age Group : All
Making A Perfect Moisturizing Bodywash For Daily Use